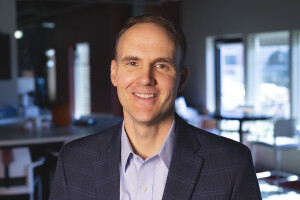 Welcome to the University Advancement Blog! I'm Rob Zinkan, and I have spent my entire career in higher education, spanning more than 20 years, in a variety of advancement and marketing leadership roles.
In 2019, I joined the terrific team at RHB, a higher education consultancy based in Indianapolis. There I lead the firm's practice in organizational development for marketing and communications, helping institutions maximize the effectiveness and efficiency of their marketing function.
I spent the previous 17 years at Indiana University, most recently in a system-wide role as associate vice president for marketing. I also served as vice chancellor for external affairs at Indiana University East and assistant dean for advancement at Indiana University–Purdue University Columbus (IUPUC). I began my career in athletics administration with stints at Ashland University and Northwestern State University, both as assistant athletic director for external relations.
My perspective on advancement can be summarized with the 3 R's.  The discipline advances the mission of an institution by strengthening its reputation, relationships, and resources.  With a holistic perspective of advancement, this blog touches on all of those areas.  (Please note that all views expressed on this blog are solely mine.)
Higher education is a wonderful community, and I have tried to stay active in service to our profession, benefitting immensely from the network I've gained and lessons I've learned. I hosted "Marketing Live" on the Higher Ed Live Network for years and recently served on the Council for Advancement and Support of Education (CASE) Commission on Communications and Marketing. Currently, I contribute regularly Inside Higher Ed's "Call to Action" blog and serve on the conference committee for the AMA Symposium for the Marketing of Higher Education.
I have a bachelor's from Wabash College, a master's from Xavier University, and a doctorate from Creighton University. My dissertation at Creighton was a case study on brand coherence at a major, multi-campus public research university, an anonymous peer institution of Indiana University.
My wife and I have four children, and we enjoy the chaos of everyone's busy lives with their various sports and music activities. During work-from-home and school-from-home this past spring, as a result of COVID-19, we had remote elementary school, middle school, high school, and college are under one roof!