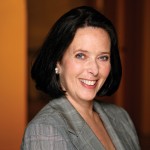 As I've stated before, every advancement officer should read Penelope Burk's Donor-Centered Fundraising.  The book is the only statistically-based research ever published on the effect of meaningful communication on donor retention and gift value.  Author, trainer, presenter, and president of Cygnus Applied Research, Inc., Penelope Burk is the latest guest in my "5 questions" series.  Many thanks to Penelope for her time, and please be sure to check out the executive summary of the 2011 Cygnus Donor Survey Report.
1. One of the core elements of donor-centered fundraising is your concept that "communication is the ask."  Please describe what you mean by this.
Donors say that, apart from their first contribution to a not-for-profit, it is not the solicitation that convinces them to renew but, rather, what goes on in between the asks. As early as receipt of the thank you letter, donors begin forming impressions of the organization that they are now supporting. Those impressions can make them feel even more positive about having given and more likely to give again, or they can cause donors to wonder whether they made the right choice. By the time they are asked for another gift, the decision has already been made; the solicitation merely provides the opportunity to convey that decision.
Whether it be a thank you note for a gift just received, a report on progress of the program or research project that the donor is funding, or an impromptu phone call, communication is what connects institutions with their donors. The quality and timeliness of communication is so influential with donors that it solidifies their future giving decisions. Therefore, communication, not solicitation, is really the ask.
2. Are social web platforms a genuine fundraising asset or strictly another communications tool?
Since communication and fundraising success are intrinsically linked (see #1 above), social media should not be underestimated even if it plays more of an indirect than a direct role in raising money. Currently, though, about 18% of donors say they can be influenced to give for the first time or give again by social media. However, unlike one-to-one fundraising programs such as direct mail, a social media group usually includes a small percentage of "mass influencers" — people who blog, re-tweet, endorse, and actively promote your organization and your messages to their own network. They independently expand your reach and can be very important in your donor acquisition, event participation and other fundraising strategies.
3. Where do young donors fit into the equation for development programs?
Among respondents under the age of 35 in the 2011 Cygnus Donor Survey, 39% plan to increase the total value of their donations this year, compared with only 20% of older donors. This and other data comparing respondents by age suggest that Fundraisers should not measure the importance of their younger donors by current gift value alone. Half the respondents between 25 and 34 years of age enjoy household incomes over $70,000, and no matter what questions we asked of them, younger donors scored not just slightly higher, but significantly higher on willingness to engage, to give more, and give in ways that are more cost-effective for fundraising.
4. Your forthcoming book, Donor-Centered Leadership, addresses the high turnover rate of fundraisers.  Please provide some background on this issue.
Extending a valued fundraiser's term for even one more year has huge implications on revenue, fundraising cost and donor confidence.  So, it's not surprising that 87% of top Development execs agree that the rate of staff turnover in fundraising is a problem.  It's not that fundraising is an unappealing career choice, though (thank goodness.)  In fact, 75% of people who enter the field, regardless of their original motivation, plan to stay in fundraising indefinitely or evolve into positions in which fundraising experience is a decided advantage (like becoming a not-for-profit CEO, for example.)  Where the problem lies is in job-to-job tenure.  For example, fundraisers in front-line, non-management positions say that it takes them ten to twelve months to get fully up to speed in a new position.  However, with the average tenure in these positions well under two years, not-for-profits are justified in questioning whether they are getting good value for money.
While tenure lengthens as seniority rises, the supply/demand ratio in our business is a nightmare for employers…but a boon for search firms and job banks, it seems.  Senior Development professionals say they are approached for another position, on average, in about ninety days after starting a new job.
5. In addition to your own, are there other fundraising books that you would recommend to colleagues?
Anything by Ken Burnett.